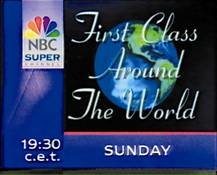 My First Class Around the World concept started as a magazine special for "MAN Magazine" in 1987. The editor in chief liked this idea so much that she decided to transform the whole Xmas issue of MAN into the First Class theme.
I travelled in the First Class of 10 airlines including the Concorde to 10 First Class destinations staying in 10 five star de luxe hotels.
Later on I made numerous articles in the "First Class Around The World theme for other major glossy magazines such as "Talkies", "Exclusive Sports" and "Dik Magazine".
In 1995 the concept was used for the International Television Series. First for RTL Holland and in later years for NBC Pan Europe (over 60 countries) and Wharf Cable TV Hong Kong.